HydraFacial Keravive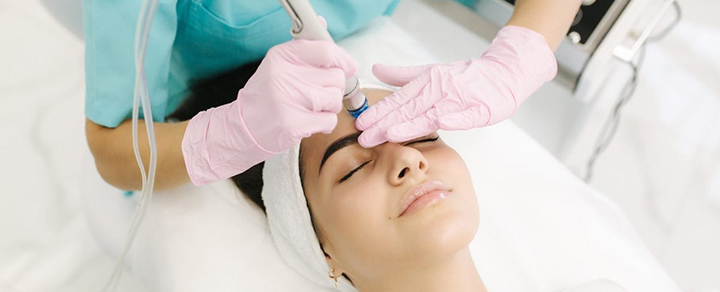 Welcome to The Face Centre: Elevate Your Scalp Health with HydraFacial Keravive
Transform Your Scalp, Reveal Your Best Hair
At The Face Centre, we believe in the power of holistic beauty. Our HydraFacial Keravive treatments are designed to rejuvenate your scalp, promote healthy hair growth, and leave you with lustrous, vibrant locks.
What is HydraFacial Keravive?
HydraFacial Keravive is a breakthrough scalp treatment that focuses on the health of your scalp, just like a facial treat your skin. This three-step process cleanses, exfoliates, and hydrates the scalp, creating an optimal environment for healthy hair growth.
The Benefits of HydraFacial Keravive:
Deep Scalp Cleansing: Removes impurities and excess oil, promoting a clean and balanced scalp.

Exfoliation: Gently exfoliates dead skin cells, allowing for better absorption of nutrients.

Hydration: Infuses the scalp with a nourishing blend of growth factors and peptides to support hair health.

Stimulates Hair Growth: Creates an optimal environment for hair follicles, encouraging healthy growth.

Strengthens Hair: Fortifies hair strands, reducing breakage and promoting resilience.
Our HydraFacial Keravive Experts
At the best facial aesthetics centre, your hair health is our priority. Our experienced professionals are trained in the latest HydraFacial Keravive techniques, ensuring a safe and effective treatment tailored to your unique scalp needs.
The HydraFacial Keravive Process:
Consultation: We begin with a thorough consultation to assess your scalp's condition and discuss your hair goals.

Treatment: The HydraFacial Keravive device is used to perform the three-step process, focusing on the scalp.

Hydration: A specialized serum containing growth factors and peptides is applied to the scalp for maximum benefit.

Enjoy the Results: Experience the revitalizing effects of HydraFacial Keravive as you leave with a refreshed scalp and invigorated hair.
Elevate Your Scalp Health Today
Ready to transform your scalp and reveal your best hair? Book your HydraFacial Keravive treatment at The Face Centre and embark on a journey to healthier, more vibrant locks.